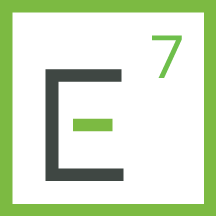 FAQ's
Privacy
Element 7 respects the privacy of the visitors to our Web Site. We will only collect personally identifiable information such as names, addresses, and the like, only when voluntarily provided by you to us at this Web Site. We, or companies we hire will only use this information to comply with your request for information or as otherwise disclosed to you at the location where you submit the information. We may from time to time refer to that information in an effort to understand your needs and better serve you by improving our products and or services. We may also use that information to contact you. We will not sell or transfer your personally identified information to any third party unless disclosed to you when you submit your information.
Your IP Address may be logged to that we can track your session on this site and thus serve you better. When analyzing our traffic, we also look at where our visitors have been referred from (the last URL you visited before visiting this Web Site), your domain, and what browser and operating system you are using.
This site may deposit information commonly referred to as "cookies" in a visitor's computer. A cookie is a token that a server gives to your browser when you access a Web site. They store many types of data, and help provide additional functionality to our Web Site. Cookies do not collect personally identifiable information.
The Element 7 Web Site is not intended or designed to attract children under the age of thirteen. We do not collect personally identifiable information from any person we know to be under the age of thirteen.
Terms and Conditions
Your use of this web site is governed by the policies, terms, and conditions set forth below. Please read them carefully. By using these sites you indicate your acceptance of, and agreement to be bound by the terms and conditions set forth below (also referred to as this "Agreement"). If you do not agree to these terms and conditions, please do not use this site.
This Agreement shall supersede any prior or subsequent terms or conditions included with any communications, agreement, purchase order, or invoice, whether or not such terms or conditions are signed by the owner of this website.
Element 7 reserves the right to make changes to its Network of sites and to these terms and conditions at any time. Any such modifications will become effective upon the date they are first posted to the sites.
COPYRIGHT AND TRADEMARK NOTICE.
All screens appearing on this web site including graphics, text elements, site design, logos, images, and icons, as well as the selection, assembly, and arrangement thereof, are the sole property of Element 7 and its respective agents. Copyright © 2016 Element 7 unless otherwise specified. All rights not expressly granted herein are reserved. Except as otherwise required by applicable law, any reproduction, distribution, modification, retransmission, or publication of any copyrighted material is strictly prohibited without the express written consent of the copyright owner.
All marks, names, and logos mentioned herein are the property of their respective owners.
Element 7 trademarks may not be used in connection with any product or service that is not theirs, in any manner that is likely to cause confusion among Element 7, or in any manner that disparages or discredits this owner
SITE CONTENT AND INFORMATION
This Network of Element 7 web sites contains information, advice, text, and other materials that are provided for your convenience and enjoyment. You should be aware that the Information herein may contain errors, omissions, inaccuracies, or outdated information. The owner of this website makes no representations or warranties as to the completeness, accuracy, adequacy, currency, or reliability of any Information and shall not be liable for any lack of the foregoing. Descriptions of, or references to, products or publications within this Network of web sites do not imply endorsement of any product or publication.
Element 7 is not engaged in rendering legal, accounting, or other similar advice or professional services. If legal advice or other expert assistance is required, the services of a competent professional should be sought. Element 7 makes no representation whatsoever regarding the content of any other web sites which you may access from this web site. When you access another website from this website, please understand that it is independent from this website and that the owner of this website has no control over the content on that web site. A link to another website from this website does not mean that the owner of this website endorses or accepts any responsibility for the content or use of such web site.
DISCLAIMER AND LIMITATION OF LIABILITY
THE INFORMATION, PRODUCTS, SERVICES OR OTHER MATERIALS ON THIS NETWORK OF SITES ARE PROVIDED "AS IS" WITHOUT ANY EXPRESS OR IMPLIED WARRANTY OF ANY KIND INCLUDING WARRANTIES OF MERCHANTABILITY, NONINFRINGEMENT OF INTELLECTUAL PROPERTY, OR FITNESS FOR ANY PARTICULAR PURPOSE. IN NO EVENT SHALL COBB LEADERS BE LIABLE FOR ANY DAMAGES WHATSOEVER (INCLUDING, WITHOUT LIMITATION, DAMAGES)
FOR LOSS OF PROFITS, BUSINESS INTERRUPTION, LOSS OF INFORMATION) ARISING OUT OF THE USE OR INABILITY TO USE THE MATERIALS, EVEN IF THE OWNER OF THIS SITE HAS BEEN ADVISED OF THE POSSIBILITY OF SUCH DAMAGES. BECAUSE SOME JURISDICTIONS PROHIBIT THE EXCLUSION OR LIMITATION OF LIABILITY FOR CONSEQUENTIAL DAMAGES, THE ABOVE LIMITATION MAY NOT APPLY TO YOU TO THE EXTENT SUCH LIMITATION IS APPLICABLE.
NUTRANOVUS, INC. FURTHER DOES NOT WARRANT THE ACCURACY OR COMPLETENESS OF THE INFORMATION, TEXT, GRAPHICS, LINKS OR OTHER ITEMS CONTAINED WITHIN THIS NETWORK OF SITES. THE OWNER OF THIS SITE MAY MAKE CHANGES TO THESE MATERIALS AT ANY TIME WITHOUT NOTICE. THE OWNER OF THIS SITE MAKES NO COMMITMENT TO UPDATE THESE MATERIALS.